Intext Questions:
Question 1.

What do you see in the illustration?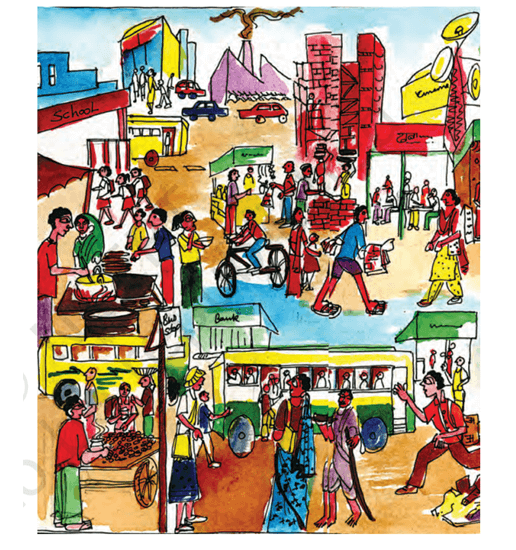 Answer:It is a busy street scene in a city, with hawkers and vendors. Various types of vehicles like buses, cycles, and rickshaws are playing on the roads. The people are busy buying goods and some people are trying to board the bus.
Question 2.

You have already read about the work that people do in rural areas. Now compare the work that people in this illustration are doing with the work that people do in rural areas.

Answer:The people in the rural areas mostly work in the fields or they go to catch fish, which is sold by the womenfolk. In the cities, there are hawkers and vendors, rickshaw pullers and vegetable sellers, etc.
Question 3.

Some parts of the city are different from others. What differences do you notice in the illustration given below?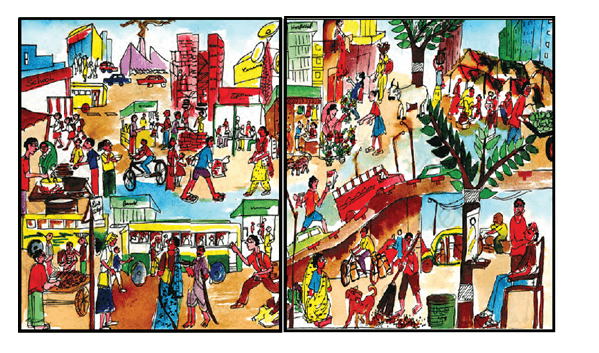 Answer: Some parts of the city have high-rise buildings and some the construction of high-rise buildings is in progress.
In some parts public transport is used whereas in others private vehicles are preferred.
Pavements in some parts are occupied by vendors and some with pavement shops.
Some children use school buswhereas some use public transport to go to school.
People are either self-employed like small or big businesses or are salaried in private or government jobs.
Do you need help with your Homework? Are you preparing for Exams?
Study without Internet (Offline)
Question 4.

Why did Bachchu Manjhi come to the city?

Answer:Bachchu Manjhi came to the city to find work. He did not get masonry work regularly. The income that he earned was not sufficient for his family.
Question 5.

Why can't Bachchu Manjhi live with his family?

Answer:Bachchu Manjhi cannot live with his family because he lives in a rented room with his friends.
Question 6.

Talk to a vegetable vendor or hawker and find out how do they organize their work, their way of preparing, purchasing, and selling, etc.

Answer:
A vegetable vendor :
Early in the morning he goes to the vegetable mandi and buys seasonal vegetables in bigger quantities. He also buys some special vegetables, but in a smaller proportion.
He brings the vegetables, clean them with water and arranges different vegetables like tomatoes, carrot, cauliflowers, carrots, and cucumbers in baskets at the stall so that people can see what vegetables are available.
He sits in the stall with his vegetables and money box and waits for the customer.
He has to tell the price of each vegetable, which the customers ask for. Sometimes there is haggling and he reduces the price for the regular customers. He also gives spray of celery and green chilies in the winter season and when the vegetables purchased are in large quantities.
In the afternoon he has to cover the vegetable with a wet jute cloth.
Sometimes he gives extra services, like peeling the vegetables or sends the vegetables to the customer's house (home delivery). He has a phone and receives orders from the customers.
Hawker:
A hawker is a person who arranges his wares on a trolley and goes from place to place to sell them. He also gives a loud call, from time to time, to attract the attention of the people.
He buys the articles like water bottles, lunch boxes, small toys, hair-pins, and clips from a nearby factory. He also displays some kid's garments which are on loan from the factory. If he is not able to sell them, he returns them to the factory.
The people come, they see the goods, ask the price, open and close the boxes. Sometimes they try the garments. But they do not buy it. It is very disappointing and the trolley has to be arranged again.
One has to be very careful with probable customers because they try to steal things.
At night, the articles have to be neatly packed and stored in a cupboard like a box below the trolley.
Question 7.

Bachchu Manjhi has to think twice before taking a day off from work. Why?

Answer:Bachchu Manjhi is a rickshaw puller and earns about Rs. 100/- a day. If he takes leave he will not be able to earn money for himself and his family.
Question 8.

Why did Harpreet and Vandana start a show¬room? What do they have to do to run the showroom?

Answer:Harpreet and Vandana opened a showroom, the business had changed. The people prefer to buy readymade clothes, rather than have them stitched. The trend is for readymade garments. Vandana is a dress designer. Harpreet knew how to manage the shop.
To run the showroom, the garments need an attractive display.
They buy things from different places, the materials from Mumbai, Ahmedabad, Ludhiana, and Tripura. Some materials also come from Noida and Gurgaon, towns near Delhi. Some dress items are also purchased from foreign countries.
Advertisements have to be put in the newspapers, cinema theatres, televisions, and radio channels.
Question 9.

Talk to a shop owner in a market and find out how he plans his work? Have there been any changes in his business in the past twenty years?

Answer:The shopkeeper purchases goods from different places and tries to have a variety and latest goods introduced in the market. He displays and advertises his goods. He is polite to the customers. He also hears the genuine complaints of the customer and sometimes replaces the articles. There is stiff competition in the market, shopkeepers give discounts and organize sales.
Question 10.

What are the differences between those who sell on the street and those in the market?

Answer:The difference between those who sell on the street and those in the market are:

On the street:
They work on their own. They are not employed by anyone and therefore have to organize their own work.
They have to plan how much to purchase, as well as where and how to set up their shops.
Their shops are usually temporary structures, sometimes just some boards or papers spread over discarded boxes or maybe a canvas sheet hung on a few poles.
They may also have their own carts or simply a plastic sheet spread on the pavement.
The police may ask them to dismantle their shops at any time.
They have no security, they may not be allowed in some parts of the city.
On the market:
In the market, the shops may be small or large, they sell various things.
Most businessmen manage their own shops or business. They are not employed by anyone.
The shop owners employ a number of other workers as supervisors or helpers.
These are permanent shops that are given a license to do business by the Municipal Corporation.
The Municipal Corporation also decides on which day, the market has to remain closed.
Question 11.

Why do you think small workshops and factories employ casual workers?

Answer:The small workshops and factories employ causal workers because these workshops get orders from abroad or some other dealer. When there is more work, they employ more workers. When there is no work they dismiss the casual workers.
Question 12.

Describe the working conditions of people like Nirmala keeping in mind the following :

working hours, conditions in the workplace, earnings, and days of work available.

Answer:The working conditions of people like Nirmala are:

Working hours: They have long working hours, 12 hours a day. They start working at 9 am and finish only by 10 pm, sometimes even later. She works for 6 days a week. At times, when there is more work, or there is an urgent need, she works on Sundays also.

Conditions in the workplace: The working place is a small workshop, people working in a small room on sewing machines, where the cloth was being stitched. Clothes that had been stitched were stacked on one side of the room.

Earnings: The workers are paid Rs. 80 a day for eight hours and Rs. 40 extra for working late. There is no job security.

Days of work available: The casual workers like Nirmala are employed when there is more work, depending upon the season or when orders are received. For some months, there is no work, in a year.
Question 13.

Would you say that domestic workers like house¬maids are also casual workers? Why? Describe the workday of one such woman detailing the work she does in other people's houses.

Answer:Domestic workers like housemaids are not casual workers. They get monthly payments, food, and a house to live in. They may also be given some medical help when needed. They work throughout the year. The work-day for the housemaids starts early in the morning. They perform all household chores like cleaning the house, washing clothes, cooking food, and cleaning the utensils. She may get some rest hours in the afternoon. The working hour ends at about 10 pm.
Questions:
Question 1.

Read and discuss the following description of the living conditions of workers who come to the labour chowk.

Most workers that we find at the labour chowk cannot afford permanent accommodation and so sleep on pavements near the chowk, or they pay Rs 6 a night for a bed at a nearby night shelter run by the Municipal Corporation. To compensate for the lack of security, local tea and cigarette shops function as banks, moneylenders and safety lockers, all rolled into one. Most workers leave their tools at these shops for the night for safekeeping, and pass on any extra money to them. The shopkeepers keep the money safely and also offer loans to labourers in need.

Answer:Living condition of workers who came to the labour chowk:
Workers are living in the harsh condition and suffering from lack of basic facilities and security.
The workers at labour chowk find out regular jobs but do not have permanent jobs.
They do not have permanent shelter so sleep on pavements or in paid shelter of Municipal Corporation.
The protection of their money and tools are provided by the local tea and cigarettes shops in an unorganised manner.
Labourers also took loans from these shops.
Question 2.

Complete the following table and discuss how their work is different:
| Name | Place of work | Earnings | Security of work | Benefits | Work on their own or employed |
| --- | --- | --- | --- | --- | --- |
| Bachchu , Manjhi | Road as a cycle rickshaw puller | Rs 100 a day | No security | No benefits | Work on his own |
| Harpreet Vandana | Showroom | Flexible | Their job is secured | They are planning to buy a flat and car. | Work on their own |
| Nirmala | Garment factory | Rs. 80 a day | No security | She can earn extra money by working late. | Employed |
| Sudha | Biscuit Manufacturing Company | She gets regular salary. | Her job is secured | Holidays, medical facilities | Employed |
Answer:Bachchu Manjhi is a rickshaw puller, his income is low and he has to save for his family, who lives in the village. He carries people in his rickshaw.
Harpreet and Vandana have their own showroom; they buy goods from different places and advertise their goods over the T.V.
Nirmala is a tailor, works for long hours, gets extra payment. The factory reduces its work by the month of June and she will be asked to leave.
Sudha is a marketing manager, looks after the sales and marketing of biscuits. She tries to increase the sale. She gets holidays, medical benefits up to a certain limit, a part of her salary is kept with the government and on it she gets interested. When she retires she will get this money back
Question 3.

In what ways is a permanent and regular job different from a casual job? Discuss.

Answer:
| Permanent Job | Regular Job |
| --- | --- |
| Job Security | No Job Security |
| Fixed working hour | No Fixed working hour |
| Fixed payments | No Fixed payments |
| Paid holidays and leave | No Paid holidays and leave |
| Extra benefits | No Extra benefits |
Question 4.

What benefits does Sudha get along with her salary?

Answer:Sudha get different benefits along with her salary:
Savings for old age: A part of her salary is kept in fund with government on which she gets interest and retirement.
Holidays: She doesn't have to work on Sundays and national holidays. She also gets some annual leave.
Medical facilities: She gets paid leave for illness and free treatment. Her family get paid medical facilities up to certain amount by the company.
Job security: She also has the permanent job and security of it.
Question 5.

Fill in the following table to show the services provided by people in the markets which you visit frequently.

Answer:
| Name of the shop or office | Nature of the service provided |
| --- | --- |
| ABC Kirana Store | Provides rations and daily needs items |
| Safal Vegetable Store | Vegetables anf fruits shop |
| Zee Cable Operators | Dish and cable TV network supply |
| Amul Milk Shop | Home delivery of milk and dairy products |