Most students after the 10th standard opt for the traditional +2 system. They choose one of the three main stream courses
Science Stream
Commerce Stream
Arts/Humanities Stream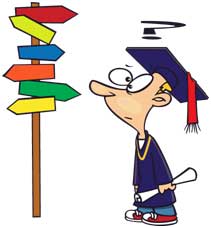 See Also: International Baccalaureate board (IB) Vs Central Board of Secondary Education (CBSE)
It is mandatory to choose these courses if one intends to do graduation or post graduation in any of these streams. Sometimes a student chooses not to pursue the courses available to them through the conventional +2 system. For such students, there are plenty of other options. We have done a bit of research and have listed out a few of the many different career options available outside of the traditional ones.
ITI (Industrial Training Institutes) / ITC (Industrial Training Centre's)
The ITIs and ITCs were set up by the Ministry of Labor of the Government of India. Government-run versions are called ITIs and their privately-run counterparts are called ITCs and these institutes are basically training organizations which provide various types of training in technical domains. ITI courses are designed to impart basic skills to the students needed for jobs in specialized trades such as electricians, machinists, fitters, plumbers, turners, welders etc. Depending on the type of trade under consideration, the duration of the course may vary from one year to three years. After passing the course, the student can opt for practical training of his trade in the industry.
Diploma in Engineering
Students who have an interest in engineering but are unable or unwilling to do the full four year degree course can join a three year engineering diploma courses in polytechnics. These courses give them a solid grounding in much of the same practical subjects as the degree course but does not dive as deeply into the theoretical aspects.
IT Sector
There are several short term courses that are designed specifically to inculcate a particular domain skill available to students in the IT sector who are creative, like web designing, animation, etc.
Web designer
For a career in web designing you require knowledge of HTML, PHP, software's for animation, web designing and many more. Web designing is a fabulous option for an alternative career. It's immensely creative and highly paid.
Web content writer
Web content writing is a good experience for those who have a command over English and are duly informed about the subject.
Citizen journalism
Becoming a citizen journalist is very easy. All you need to do is make an account on an appropriate platform and post your stories online. This is not a very lucrative career though.
Dancing and choreography
Dance is one of the most interesting professions. From classical to salsa, dance has always been something people crave to master and with the current craze of dance based reality shows the demand is booming for instructors. Dancers also work in movies, advertisements and as choreographers in stage shows and on television.
Teaching
Those interested in the field of teaching and imparting information to the next generation can undergo training in the diploma courses for nursery and primary teachers. This course is conducted by the departments of primary education in various States by the Education Ministry.
Police Force
If you have a passion for serving the people and catching bad guys , you can join as constable in Central Reserve Police Force (CRPF). Selection for this job is done on the basis of a physical test and a written test.
Indian Navy
On the basis of written examination, job opportunities are available in Indian Navy. The examination details are published in all leading daily newspapers in English and regional languages. After the exam, candidates are eligible for positions as Artificer Apprentices, Dock Yard Apprentices, and Sailors etc.
Indian Army
If you want to serve your country and protect it from threats foreign and domestic, the Indian Army is looking for you. One can join in Indian Army for the post of soldiers in technical trade through written exams like
Indian Army Soldier General Duty (N.E.R.) Examination
Indian Army Soldier Nursing (M.E.R.) Examination
Indian Army Soldier Clerks Examination
Indian Army Soldier Technical (M.E.R.) Examination
Beauty and Health Care
The short-term courses in Beauty, Makeup and Hair dressing make you eligible for jobs in a host of industries as beauty therapists, spa therapists, makeup artist for weddings, dramas, movies, modeling shoots etc. You can also become work as a hair designer and or a nail technician.
Jewellery Designing and Fashion Designing
Careers in Jewellery Designing and Fashion designing help you satisfy your creative urge. You can use your skills to work in the industry or start your own business.
Must Read: Common Challenges Students Have in Algebra
Modeling
Modeling is another highly lucrative business for fitness enthusiasts. There are short courses for acting and modeling where you can pick up the skills needed for this industry. You will need to get your portfolio made by a proficient photographer before you start looking for assignments.
Translator A translator is needed at places where a lot of foreign nationals visit such as embassies, MNCs, Hospitals, International organizations, as hotel guides etc. In order to become a translator, you first need to learn a new language and do an authorized certificate course in it. The most popular languages are German, Japanese, Spanish, French and English. As globalization progresses and countries become more interconnected, the need for people which such skills will go on increasing.
Online start-up
If you have an original idea for the online industry, venture out and start your own. The startup culture is booming in India due to government initiatives and is becoming a multibillion dollar revenue generator and if you play your cards right you can become very successful.
There are many other careers like tutors, counselors, photographer, video jockey, radio jockey etc. Always choose a career that interests you. When you have interest and passion in your career only then can you work hard and succeed at it.